Swami Rama
Swami Rama was born in the Himalayas and raised by his spiritual master in the legendary Himalayan cave monasteries where countless generations of yogis have been trained and initiated into the deepest mysteries of the sacred science of yoga. A monk in the Shankaracharya order, he held the highest position of Shankaracharya, which he later renounced.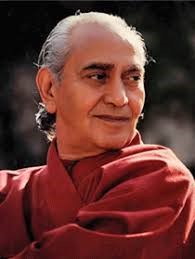 Swami Rama pioneered many early scientific studies in measuring the physiological correlates of the yogi's internal experiences using modern scientific equipment. A philosopher and author of over 40 books, Swami Rama was a master of many arts including poetry, music, architecture, sculpture, painting and martial arts. Swami Rama was a multifaceted personality and truly beyond description; a spiritual master and master of the art of living.
A great philanthropist, Swami Rama founded many charitable organizations and teaching centres such as the Himalayan Institute as well as the Himalayan Institute Hospital Trust.
Swami Rama left many disciples around the world who carry on various parts of his work. He remains in their hearts as one who truly personifies and represents the perennial lineage of Himalayan masters.